Air Conditioning Service Temecula
Temecula's Family Owned and Operated Air Conditioning Company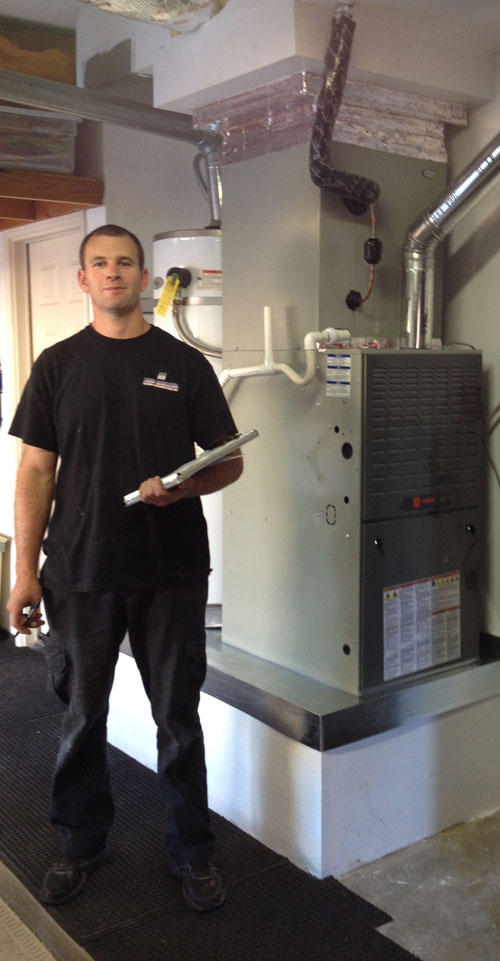 Third Generation Heating and Air Conditioning is a full service HVAC company in Temecula, California. We are family owned and operated with three generations of Air Conditioning and Heating experience. We have fast response time to any air conditioning service call in Temecula and if you have an HVAC emergency you can rest to sure that you will not be billed for any overtime charges. Since Temecula is our home we offer 24/7 air conditioning and heating service with no weekend or overtime charges.
Our heating and cooling contractors are trained to handle all your repair, maintenance and installation needs, and you can trust that they only use the very best brand names in the business. We offer a 100 % customer satisfaction guarantee, because we believe in professional customer service. Some services we offer above and beyond repair include critical work such as thermostat installation, air handler repair, and zoning system installation.
Your air conditioning system is the lifeblood of your property, keeping you California cool when the sun starts scorching.
Regardless if you're at home or at the office, you can enjoy cool air and energy benefits by improving your air conditioning unit. If you think your air conditioning system is outdated and / or inefficient, contact any of our licensed inspection professionals. We can adjust and clean your existing system for optimum performance or replace it, if appropriate, with a quiet, modern, and energy efficient air-conditioning appliance.
Summer is fast approaching, and a working air conditioner is essential to your family's comfort. If your air conditioner isn't running at its best or it breaks, you need quick, reliable solution. Our Temecula air conditioning repair contractors know the very best techniques in order to get your AC unit up and running immediately. If repair is not cost effective, we would be happy to suggest a new unit that is right for you. Our team is qualified to do all types of air conditioning installation.
Most common Air Conditioning Problems
Finding out something about your air conditioning problem before your Third generation HVAC technician arrives to your home can help you save some time and money. Common issues include the compressor failing to turn on, the air not coming out cool enough, low airflow and water leaks. Here are the top problems that may cause your air conditioning system to break down.
Fuse Box.
The first thing you should do if your air conditioner is performing poorly is to check the fuse box or circuit breaker that services the unit. The fuse may have to be replaced or the circuit breaker reset. Also, if the air conditioner turns on and off frequently, the compressor and fan controls may be deteriorated.
Filters.
The filters may also need to be changed. Clogged, dirty filters stop normal airflow and decrease a system's efficiency considerably.
Water Leaks.
Leaks are generally associated with low refrigerant or a blocked drain pipe. Blockages could be fixed by clearing out the clogged pipe inside the evaporator coil pan.
Coils.
An icy coil typically suggests an issue with the airflow, which include restrictions caused by grimy air filters or blocked return air ductwork. Frozen coil could be just one of several problems including dirty filter, low air flow, low on freon, or some other causes. Low air flow– Have the coils been cleaned lately? You may also need to clean off the evaporator or condenser coils by brushing them off or vacuuming them.
Low Refrigerant.
Refrigerant (more typically referred to as Freon) is the chemical that cools the air. Low refrigerant may indicate a leak or problem with the refrigerant system. If your system needs to be recharged with refrigerant, usually that means there is a leak. If your unit is turning on, but the air isn't cooling efficiently, your refrigerant may be low.
Faulty Wiring.
Bad wiring commonly stops the system from getting power, or can trip the circuit breaker. With Faulty installation, even the best energy-efficient unit sacrifices its efficiency when installed incorrectly.
Circulating Air That Does Not Get Cooled.
When you can feel that air coming via the vent is equally as warm as the air outside-there are a couple of possible explanations. Refrigerant may be low. The fuse may need replacing. In an older unit, the fuse and controls may be deteriorated. The majority of air conditioning problems are a result of flawed installation, poor service, and not enough maintenance. Bad wiring, low refrigerant and airflow problems can be detected in the course of routine maintenance tune-ups. In many cases, the only way you can prevent these common problems is by participating in a preventive maintenance program offered by Third Generation Heating and Air Conditioning.
Our Recent Projects In Temecula
As Temecula's Premiere Eco-Friendly Heating and Air Experts We Service, Install and Repair
American Standard, Trane, Carrier, Goodman, Coleman, Rheem, Lennox, Payne, Comfort Maker, Amana and more…
Read Our Reviews
Lower Your Energy Cost and Help Protect The Environment

What is ENERGY STAR?
ENERGY STAR is the trusted, government-backed symbol for energy efficiency helping us all save money and protect the environment through energy-efficient products and practices. Making your home more energy efficient with ENERGY STAR can help to reduce high energy bills, improve comfort and help to protect the environment. click here to find energy star qualified products.