Your Escondido Air Conditioning and Heating Experts
We are your local licensed and trained air conditioning and heating specialists.  With decades of experience, affordable rates, and on-schedule arrivals, we're Escondido's top choice for residential and commercial air conditioning and heating services.  We provide A/C repair, replacement, and new installation services to all Escondido, California and surrounding areas.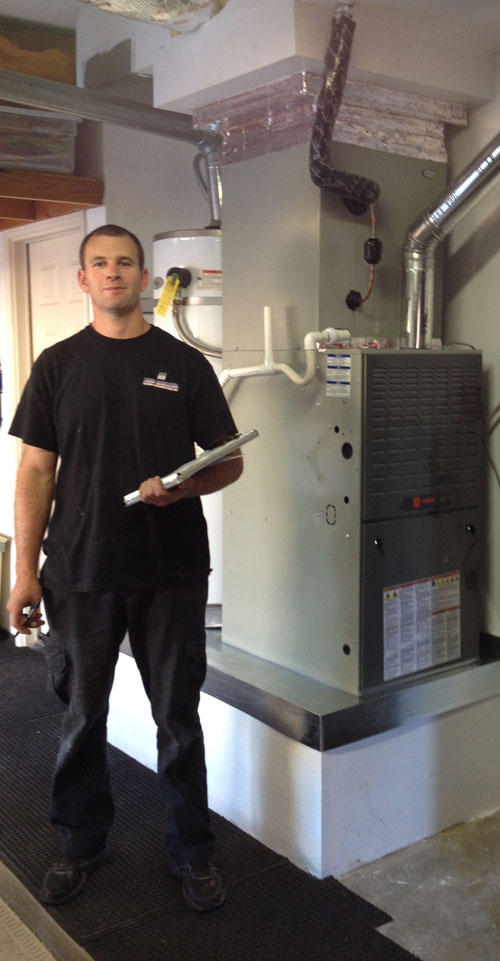 Residential Heating & Air Conditioning
Home heating and air conditioning systems do tend to break down at the worst possible time — under the strain of the hottest or coldest conditions.  So we make sure our trucks are well-stocked and arrive promptly for a fast heater repair or air conditioner repair.  And our expert troubleshooters mean there are no unnecessary costs.
If it's time for a replacement installation, we're ready for that too.  We're up to date on the latest high-performance models of furnaces, central heating, and central air conditioning systems, and ready to advise you on your best choices, including electric heat pumps that provide both heating and cooling.  We're also highly recommended for our real-value installations for new construction.
Commercial HVAC Services
We're also Escondido's experts when it comes to commercial furnaces, heaters, and air conditioning.  You can count on us for perfect temperature control for productivity as well as high-performance for the economy.  We have specialists in design/install projects, ready for your unique requirements with the most cost-effective system.
Third Generation HVAC
Family owned and operated since 1958, we're now in our third generation.  That's a lot of experience and accumulated expertise in design, diagnosis, repair, and installation for air conditioning and heating systems.  That includes new construction as well as remodels and upgrades from room to central heating.  Our many trucks are fully stocked and radio-dispatched for fast solutions in emergencies.
We're ready for all the leading brands — Amana, American Standard, Carrier, Coleman, Comfort Maker, Goodman, Lennox, Payne, Rheem, Trane, and others.
Check Out Our Reviews
Escondido, California Notes
Escondido is known for its pleasant Southern California climate.  But did you know that record highs reach into the 90s every month of the year?  And into the 100s half the year (with an all-time high of 111 degrees).  Yet record lows dip below freezing half the year, with an all-time low of 21 degrees.  So you need your heating & air conditioning systems both ready throughout the year.
"Escondido" is Spanish for "hidden" and "hidden treasure," and there' plenty of lesser-know treasures.  The most popular include
Queen Califia's Magic Circle, a sculpture garden featuring international artists, native plants, and totem poles,
Roynon Museum of Earth Science and Paleontology with its dinosaur exhibits, and
Elfin Forest Recreational Reserve for scenic hiking, mountain biking, equestrian trails, and picnic areas.