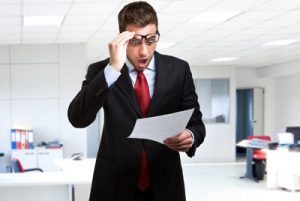 It's the middle of summer, your hot, sweating and in desperate need to cool down. You turn on your home's A/C, but it's not getting any cooler inside. Time to call a professional for AC service right? Yes. Yet, before you do you may want to check the reputation of the professional you're calling before you let them do the job.  [space size=30px] [clearboth]
Make Sure You Go Over Your Bill
Unscrupulous HVAC workers (we won't call them professionals) can make a job seem more difficult than what it actually is. Reports have shown instances of how some HVAC workers have purposely listed parts that needed replacement when they are perfectly fine. A clever scam that occurs is where the worker shows you the part that need to be replaced, then shows you the newer item. Yet, they actually put the original part back in, fix the minor issue, run the A/C to show that it's working, and charge you for a new part installation.
New part replacement and other mystery charges can easily cause a bill to become 4 to 6 times a fair charge.
It is always best to check the reviews of a business and if possible call others that you know have used their services. Ask plenty of questions and verify their credentials if anything seems out of place.
As a family owned, third generation business, our company is centered on upholding integrity and honesty. We offer full transparency in every job that we perform and you'll never have to worry about an inflated or improper bill. Lastly, you don't have to take our word, call any of the residential or commercial clients that we service to get their opinion. Third Generation HVAC is a full service air conditioning contractor. We also handle commercial air conditioning repair and can help you with HERO financing.